inmate clothing apparel
We Are Your Top Choice for Premium Inmate Clothing and Footwear
Welcome to True Uniform, your final destination for top-quality Inmate Clothing Apparel, Inmate Footwear, Inmate Jumpsuits, Inmate Scrubs, and Inmate Shoes. With a steadfast commitment to excellence, affordability, and unrivaled customer service, we are the main GSA Advantage promotional product company in correctional facility apparel and footwear.
Delve into our extensive variety of inmate apparel and footwear options, in which each product is meticulously designed to satisfy the highest quality and performance standards.
Correctional Facilities Trust True Uniform
Correctional facilities, regulation enforcement agencies, and institutions nationwide consider True Uniform their primary supply for inmate apparel and shoe needs. Our comprehensive choice of merchandise ensures that your facility is admitted to reliable, comfortable, and steady attire and footwear answers that prioritize inmate well-being and facility protection.
Inmate Clothing Apparel: Exceptional Quality and Comfort
When it comes to Inmate Clothing Apparel, True Uniform sets the gold standard. We realize the importance of imparting inmates with apparel that no longer most effectively adheres to rules but also guarantees consolation throughout extended use. Our range of inmate garb apparel surpasses the fundamentals; it exemplifies fine sturdiness, and comfort. From jumpsuits to scrubs and shoes, we offer a versatile series to cater to your facility's unique requirements. Inmate clothing is more than only a uniform; it is an important element of keeping order and protection inside correctional facilities.

Inmate Clothing Suppliers: Your Trusted Partner in Correctional Facility Apparel
At True Uniform, we're more than simply Inmate Clothing Suppliers; we are your steadfast companions in ensuring the safety and well-being of correctional facilities nationwide. Our reputation for reliability is a testament to our consistent delivery of high-quality inmate clothing, footwear, and related products.
We offer a range of customized solutions tailored to meet the specific needs of your facility. Our inmate clothing is engineered with features that promote safety and security. By choosing True Uniform as your inmate clothing supplier, you can trust that you are receiving products that meet or exceed all regulatory requirements.
Inmate Footwear: Safety and Durability Redefined
In the realm of corrective facility apparel, inmate shoes are pivotal in ensuring protection and sturdiness. True Uniform offers inmate footwear engineered to prioritize safety, durability, and comfort. Our inmate shoe variety consists of diverse styles and options tailor-made to satisfy your facility's specific desires.
Whether slip-resistant shoes for kitchen responsibility or sturdy boots for outside tasks, we protect you. Inmate shoes from True Uniform are built to the ultimate, ensuring a long-term price for your correctional facility.
Inmate Jumpsuits: Uniformity and Compliance with a Touch of Comfort
Maintaining uniformity and compliance within correctional facilities is of utmost significance. True Uniform's Inmate Jumpsuits aren't most effectively tailored to fulfill these strict requirements but are also designed with inmate comfort in mind.
Inmate jumpsuits are not simply garments; they symbolize area and order inside correctional centers. Our jumpsuits are designed to face the pains of each day's use, even as they impart inmates with a degree of consolation essential for their well-being.
Inmate Scrubs: Hygiene and Comfort in Every Stitch
Hygiene is a pinnacle of precedence inside correctional centers, and True Uniform is dedicated to assisting this venture. Our Inmate Scrubs are carefully crafted to promote cleanliness and inmate consolation. Our scrubs are the suitable choice for your facility, featuring modern layout factors that decorate hygiene and simplicity of motion.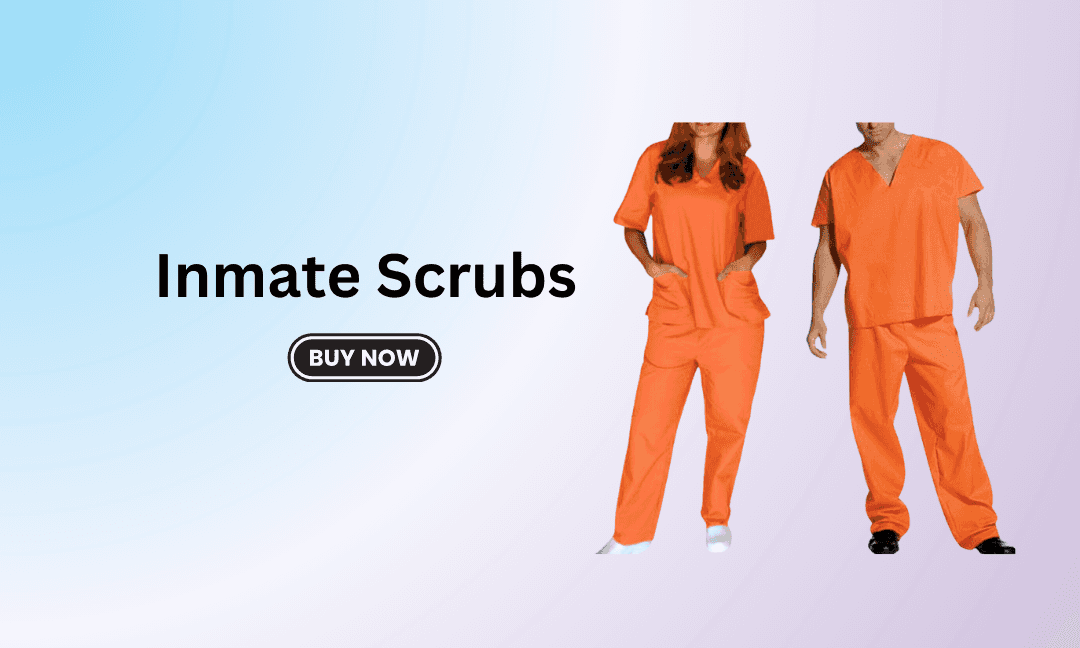 Trust True Uniform to provide scrubs that meet and exceed your expectations. Inmate scrubs play an essential function in maintaining a clean and hygienic environment. True Uniform understands inmates should have access to cushty and purposeful scrubs that allow for smooth movement and maintain cleanliness. Our scrubs are designed to be smooth to launder, ensuring that they meet the highest hygiene standards within your facility.
Inmate Shoes: Where Quality Meets Security
Inmate footwear is a crucial element of any correctional facility's security measures. At True Uniform, we provide an extensive range of inmate shoes with a premium on fine and protection. With slip-resistant soles, durable substances, and particular craftsmanship, our footwear is designed to decorate protection while offering inmates the consolation they require.
Inmate footwear moves past footwear; they may be a fundamental detail of safety protocol. True Uniform's inmate footwear is engineered to minimize slipping risks and sell inmate safety. Whether it is at some point in day-by-day sports or emergency conditions, our shoes are up to the project. Moreover, we understand that inmates should have to get cozy footwear that helps their well-being for the duration of confinement.
True Uniform stands as your dedicated partner, committed to providing the highest quality inmate clothing while upholding the safety and security of both inmates and staff. Explore our comprehensive range today to see how True Uniform can transform your correctional facility attire and footwear requirements.
Why Choose True Uniform for Your Inmate Clothing and Footwear Needs?
Uncompromising Quality
True Uniform is devoted to delivering inmate clothing and footwear merchandise that always meets and exceeds enterprise requirements.
Affordability
We offer aggressive pricing without sacrificing the superior fine of our merchandise.
Outstanding Customer Service
Our committed customer support team is to be had to assist you to every degree, making sure of a seamless and hassle-unfastened enjoyment.
Customized Solutions
We recognize that every correctional facility has specific requirements. That's why we offer tailored solutions that align with your particular wishes.
GSA Advantage
As an accredited GSA Advantage company, True Uniform simplifies the procurement manner for government corporations.
Conclusion: Your Trusted Inmate Clothing and Footwear Partner
True Uniform is your most appropriate GSA Advantage promotional product company for all your Inmate Clothing Apparel, Inmate Footwear, Inmate Jumpsuits, Inmate Scrubs, and Inmate Shoes needs. Our unwavering commitment to first-rate, consolation, and security guarantees the well-being of each inmate and staff. Make True Uniform your desire and revel in unrivaled niceness in every piece of apparel and shoes.
With an in-depth selection of inmate clothing and footwear answers, True Uniform is prepared to equip your correctional facility with the best quality. Our dedication to excellence, sponsored by years of enjoyment, guarantees that your facility operates easily while retaining the best safety and comfort requirements.
Explore our comprehensive variety nowadays to see how True Uniform can rework your correctional facility attire and shoe requirements. Trust us for the great in inmate apparel and shoes, and experience the True Uniform distinction.